CAFFÈ TERZI BOLOGNA
Caffè Terzi Bologna in Via Oberdan was born in 2001, when I decided to present to the public the Coffee in a new perspective.
First in Italy, I open a coffee shop 100% dedicated to Coffee and Tea. No more sandwiches, soft drinks, salads or liqueurs: all the attention – and the time needed – dedicated to Coffee.
What initially seemed a thoughtless choice, and which was often mocked by colleagues and neighbors, has proved to be successful over time. Today Caffè Terzi Bologna is considered one of the most important Caffetteria in Italy.
Different roasting profiles, at the time considered unusual and incompatible with the extraction in Espresso, have been prepared in order to leave room to the varieties and specialities of the quality Coffee and to enhance them. Another innovation, also criticized at the time, but widely shared today.
Differently from what was happening years ago, today guidebooks begin to consider the high degree of specialization a step forward and not a limit. For a number of years, given the increasing demand for supply and consulting, we have decided to leave the business management to Elena Naldi, who is following it with professionalism, ability and profit.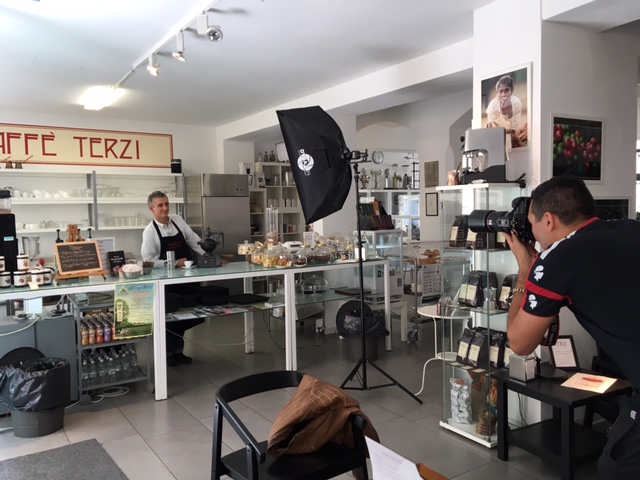 CAFFÈ TERZI VIGNOLA
A wider, more confortable and enjoyable space, more casual and ideal for both Customers and Courses: these are the requirements that have led me to open Caffè Terzi Vignola, in via Fontana 2. A service space, that drives innovation: to the product as well to the setting up. No longer the classic bar and platform, but specially designed modular structures, thanks to which the bartender is no longer confined to the platform, control bridge, but he is at the exact Clients' height to be around them for sharing without detachment. This is a testing bar, where we experience, test and taste daily.
CAFFÈ TERZI SAN SEBASTIAN
"Good morning, my name is Mikel Benitez: I would like to take a complete cafe course with you" Mikel told me in 2010. He took the course, studying a lot and achieving excellent results. "Good morning, I'm Eugenio, Mikel's brother. I would also like to take the complete Course" Eugene said to me the following year.Only at the end of the training course I realized that the examined one was me: when they told me that they had heard of Caffè Terzi and wanted to deepen their knowledge to evaluate the Coffee import into Spain. With this serious family of professionals we opened in 2013 Caffè Terzi Donostia, next to the University, which soon reached popularity and success. There are currently several Caffè Terzi in Donostia, including the new main caffetteria in Tabakalera, the old tobacco factory now renovated, in the old town, in the center.